Finance, Banking and Securities
Finance, Banking and Securities
The firm advises banks, finance companies and insurance companies on commercial and regulatory matters including advising on banking and financing products. We also draft and advise on both local and international loan transactions as well as syndications and project financing. The firm has extensive experience in advising and drafting various types of corporate financing.
Work in the securities field includes advising clients in connection with various equity related matters. The firm assists with public offerings and private placements of securities in Thailand.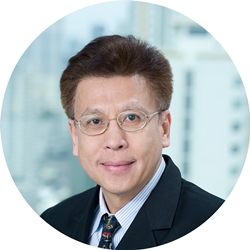 Rungsaeng Kittayapong, Ph.D.
A Thai national, graduate of Thammasat University. Dr. Rungsaeng received his LL.B. in 1979. He passed the bar exam of the Institute of Legal Education, Bangkok, Thailand and was called to the bar in 1980. He received a Graduate Diploma in English Legal Studies, University of Bristol, England in 1985, LL.M. in Commercial Law, University of Bristol, England in 1986, and Ph.D. (Doctor of Philosophy), University of Bristol, England in 1990. He had extensive experience as a public prosecutor before participating in a leading international firm to practice in mergers and acquisitions, banking, finance, securities, litigation, arbitration and government contracts. Dr. Rungsaeng joined us during mid 2004 as a Partner of the firm and his main responsibility is mergers and acquisitions, finance, banking, securities and government contracts.
E-mail : rungsaeng@kss.co.th